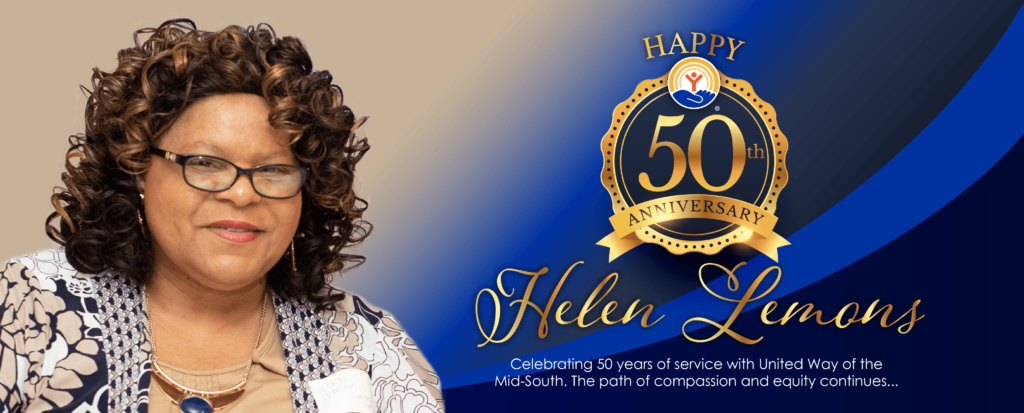 Helen Lemons was connected to Shelby United Neighbors in 1971 through the Social Security Administration after the sudden, tragic death of her father. She was convinced not to live off of her father's social security, but to make a career for herself and help take care of her mother and five siblings. While still attending college, Helen worked as a Receptionist Clerk-Typist, gaining not only a valuable workplace skill set, but self-assurance too.
When Helen began, Shelby United Neighbors was a small nonprofit organization, working only with about 45-50 agencies. She considers herself lucky to have seen the organization merge with United Way Worldwide, becoming United Way of Greater Memphis, then United Way of the Mid-South. Through this merger, United Way of the Mid-South was able to expand their reach to additional clients, companies, governments and schools, and Helen was there to witness it all.
Through her 50-year tenure, she has held the roles of Secretary I, II and III, I&R Specialist, Word Processing Operator, Data Entry Operator, Computer Operator, Campaign Processing Associate, Financial Information Services Coordinator, Administrative Associate of Processing, Finance Associate, Financial Data Associate and Processing & Financial Associate. 
"I have enjoyed watching the growth of Shelby United Neighbors all the way to United Way of the Mid-South," said Helen. "I have seen the increase in public participation, the addition of United Way agencies, the extension of our donor base and the growth of corporate partnerships during my time at United Way." 
As much as the organization has blossomed in the last 50 years, so has Helen. She credits United Way of the Mid-South with her courage in taking on more responsibilities, desire to help others, sharing, caring and loving her fellow man. Above all, Helen appreciates the people she has been able to work with over the years.
"The employees have been there for me in my personal hardships," said Helen. "We've shared prayers, sorrows, happiness, family expansions and more. Working at United Way of the Mid-South is like working with your family."
She says she has stayed with the organization for 50 years because she not only believes in our mission, but her roles have helped with her personal character development and have given her the opportunity to help others develop positive character as well. In the last 50 years, Helen has remained a faithful financial donor to United Way.
When asked to pick one favorite moment from the last 50 years, Helen describes her first Director serving as a mentor to support her not only in the workplace, but also outside of the workplace. This was important because Helen's Director looked nothing like her. Her Director, along with her husband, eventually became Helen's daughter's godparents.
The path of compassion and equity continued after Helen's Director left. She noted Sam White, Senior VP of Finance & HR, as promoting unity, empathy, leadership, equal opportunity and fairness, without discrimination. Helen also gives praises to United Way of the Mid-South President & CEO, Dr. Kenneth S. Robinson, for his vision, leadership and commitment to diversity, equity and inclusion.