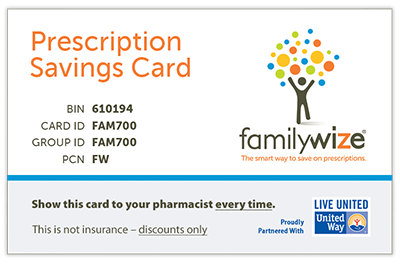 With the changing temperatures and high pollen counts of spring, a lot of people are struggling with allergies, colds, flu, or other illnesses.
Purchasing medicines while simultaneously making plans for summer expenses can pressure family budgets, but with the free familywize prescription discount card some relief may be available.
United Way of the Mid-South is happy to help individuals and families realize possible savings on prescription medications with the free familywize prescription discount card.
United Way is a proud partner with familywize Community Service Partnership, Inc. in offering this free card which can help users get lower prices on prescription medications – even if they already have medical insurance. Since starting this program, hundreds of thousands of prescriptions have been filled with discount savings in the Memphis and Mid-South area!
This program is an important part of United Way's work to help people in poverty and improve health for Mid-South citizens. When you download a familywize card, you are not supplying your name or contact information, so there is no inconvenient junk mail or e-mail spam to worry about.For more information about the program and the card (including getting a free downloadable card for yourself or a family member or friend)
For more information about the program and the card (including getting an instant, free downloadable card for yourself or family member or friend) visit www.familywize.org