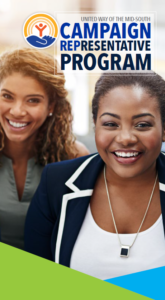 During our busy resource development season, United Way is only able to achieve great results keep our overhead low because of people and organizations helping our Campaign Representative Program.
Campaign Representatives work alongside the United Way staff to generate critical resources for our nonprofit community. They become essential leaders in United Way's work to raise more than $19 million so we can make positive impacts on local education, financial stability, and health.
To learn how your organization can provide an employee as a United Way Campaign Representative or sponsor full-time and/or part-time Campaign Representatives, see our information brochure.
Participants in the Campaign Representative program engage our community through group volunteer projects, tours of partner organizations, meetings, and by speaking with various audiences about United Way of the Mid-South's work to help more people escape generational poverty.
The program emphasizes networking and mentorship. From building relationships with key corporate contacts to making presentations before different audiences, people in the Campaign Representative program expand their professional networks and gain skills to help them advance in their careers.