Hundreds of trained Red Cross disaster workers from all over the country are helping on the ground and virtually in Kentucky, Tennessee, Arkansas and Missouri, focused on providing shelter, meals, comfort and support in the face of the deadliest tornado outbreak in a decade. With such widespread damage and thousands of homes affected, families will need support for weeks to come and the Red Cross will be there for as long as we are needed.
RED CROSS RESPONSE Some two dozen emergency response vehicles are moving through the affected areas where possible. Tuesday night, there were 13 Red Cross and community emergency shelters open in Kentucky, Tennessee and Arkansas providing safe refuge to almost 350 people. Several areas remain without power and we are providing meals by our mobile feeding team.
With the help of partners, we've served more than 4,400 meals and snacks, distributed more than 1,000 relief items, and provided almost 300 individual care contacts to help people with medical or disability needs as well as emotional and spiritual support during these challenging times. Red Cross volunteers are also working to assess the damage in affected communities.
We have spiritual care team members on the ground to show compassion, along with mental health workers to assist with special individual needs.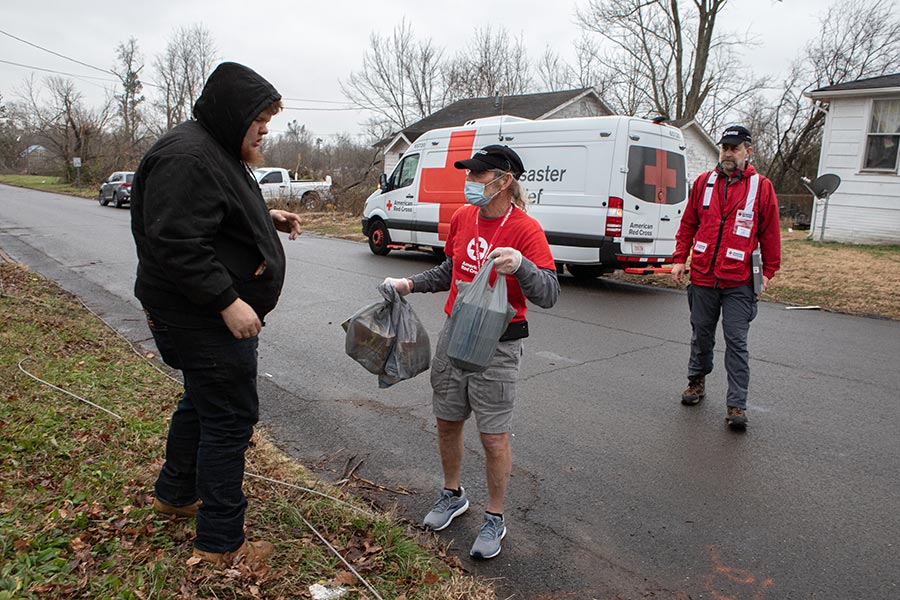 FIND A SHELTER The Red Cross welcomes everyone into our shelters. Anyone in the affected areas that needs a safe place to stay should visit redcross.org, call 1-800-RED CROSS (800-733-2767) or download the free Red Cross Emergency app for shelter locations. To help keep everyone safe, we're using COVID safety precautions including masks, health screenings, enhanced cleaning procedures and encouraging social distancing regardless of vaccine status.
The Red Cross is not accepting donations of food, household items or clothing — as they cannot be distributed by our teams. We have amazing community partners, that support the collecting and distribution of those items.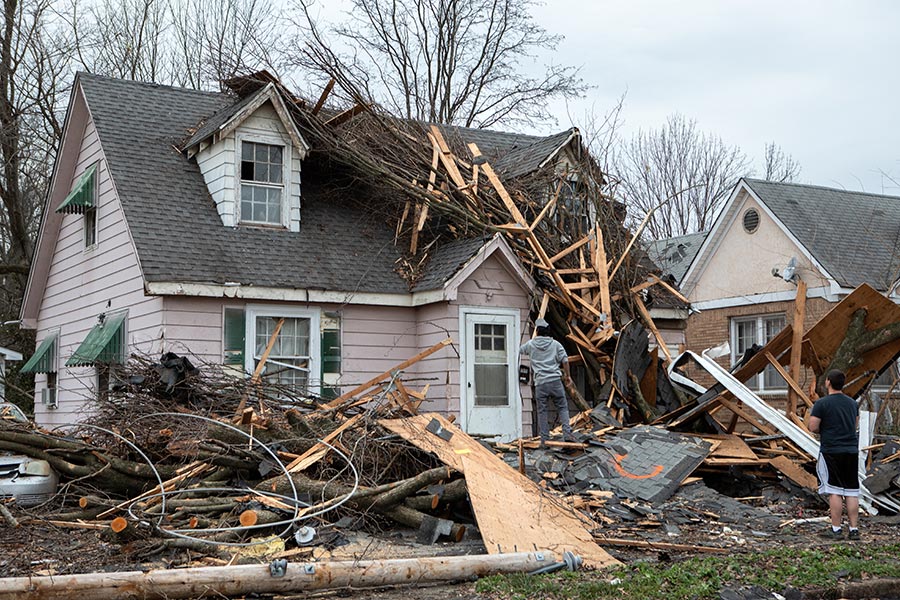 PLEASE GIVE BLOOD Over the weekend, the Red Cross provided approximately 200 additional blood products to hospitals in response to these devastating tornadoes. Right now, we are working to replenish blood supplies as inventory challenges persist. Prior to the tornado outbreak, the nation was already facing historically low blood inventory challenges and more donors are needed to ensure a readily available blood supply. We urge individuals to make an appointment today to give blood in the days and weeks ahead to help ensure blood products are available for patients wherever the need arises. https://www.redcrossblood.org/
YOU CAN HELP people affected by disasters like tornadoes and countless other crises by making a gift to Red Cross Disaster Relief. Right now, financial donations are the quickest and best way to get help to those who need it most, which give people the flexibility to purchase what they need. https://www.redcross.org/donate/donation.html/