Belz Enterprises, a longtime giver to United Way, welcomed Dr. Kenneth Robinson, President and CEO of United Way, with open arms at a thank you event held at Belz Enterprises earlier this week.
Jack Belz (Chairman and CEO of Belz Enterprises) and son Ron Belz (COO Belz Enterprises) welcomed Dr. Robinson and United Way guests. Dr. Robinson  thanked Belz Enterprises and the Belz family for their continued generosity to United Way over the years and shared details of the organization's new direction and focus on addressing Mid-South poverty.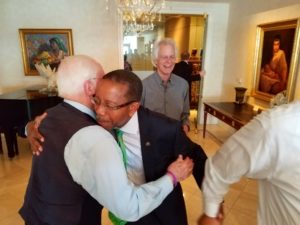 Belz Enterprises contributed over $173,300 to United Way's most previous resource development campaign.
The Belz family has a long history of strong support with United Way. Ron Belz is both a past General Campaign Chairman and Chairman of the Board of Directors for our United Way.
Belz Enterprises is one of the South's largest commercial and industrial real estate developers. For many years, the Belz family has been key leaders in helping improve Memphis and the Mid-South community through charitable donations and volunteerism. Employees at Belz Enterprises and The Peabody (Belz Enterprises' flagship Mid-South hotel) are active in contributing to our area through giving to support United Way's resource development work, and the organization provides very generous corporate gifts.
For more information about Belz Enterprises, please visit http://www.belz.com/
(Photos: Clint Anderson, United Way Director of Resource Development)