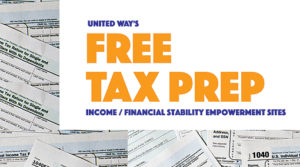 Special circumstances can mean an individual or family needs to amend or file taxes later than the normal IRS April deadline. For cases like these, United Way Free Tax Prep is offering extended FREE tax prep and filing services from May 3 through June 25 at the Cossitt Library, 33 Front Street, Memphis, TN this summer.
For people with an annual income of $54,000 or less, this service will help people with amended returns, filing late tax returns, or addressing other tax problems. (Note: the service will not prepare K-I's, Schedule D, Schedule E and Schedule F.)
Tax help is available by appointment only. Call 901.433.4364 Monday through Friday during normal business hours to schedule an appointment. The extended Free Tax Prep site is open Tuesdays, Thursdays, and Saturdays from 11:00 a.m. – 3:00 p.m.
People wishing to utilize the service should bring a picture I.D., W-2 and 1099 forms, copy of original tax returns if they wish to amend a return, Social Security cards for everyone listed on the tax return, proof of health insurance Form 1095s, any letters or transcripts from the IRS and any other relevant tax information documents.
You can download a flyer (8.5″ x 11″) with this information here.