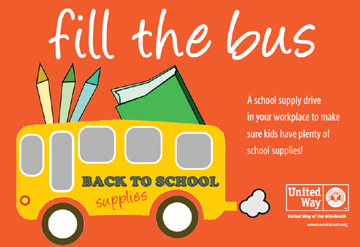 United Way of the Mid-South and Walmart locations are asking you to assist children in need of school supplies with a busload of help in July and August during their "Fill The Bus" campaigns.
"Many children start school without the supplies they need to succeed. They're nervous enough about their new teacher and new classroom – when they don't have the basic supplies to do their work, it can be a huge distraction and discouragement that impacts their learning. With Fill The Bus, people can donate school supplies at Walmart and United Way will make sure it gets to students who need supplies," said Rosa Potts from United Way.
Walmart stores at 5255 Elvis Presley Blvd, 7527 Winchester Rd. in Memphis and stores in Ripley, TN, Covington, TN, and Oakland, TN will have buses parked outside to receive school supplies. Collection days and hours are provided at the end of this release.
"We're partnering with United Way to make sure more children have supplies for the coming school year," said Larry Bean, manager of the Elvis Presley Blvd. Walmart location. "This is a great way for Walmart shoppers to make a big difference for students in need. It's a great example of Walmart's commitment to creating opportunities so people can live better. It's a wonderful program."
United Way and Walmart want to thank the FedEx Retirees association, Durham School Services in Memphis, the Lauderdale Junior Auxiliary, Tipton Junior Auxiliary, and Halls First United Methodist Church in Ripley for their help to make these drives successful.
Fill The Bus collection sites, dates and times:
Memphis, TN (Shelby County)
Walmart, 5255 Elvis Presley Blvd.
Fri., August 7, noon – 4:00 p.m., Sat., August 8, 9:00 a.m. – 4:00 p.m.
Walmart, 7525 Winchester Rd.
Sat., August 8, 9:00 – 4:00 p.m.
Ripley, TN (Lauderdale County)
Walmart, 629 Highway 51 North
Sat., August 8, 9:00 – 4:00 p.m.
Covington, TN (Tipton County)
Walmart, 201 Lanny Bridges Avenue
Fri., July 31, 10:00 a.m. – 2:00 p.m.
Sat., August 1, 2015 10:00 a.m. – 2:00 p.m.
Oakland, TN (Fayette County)
Walmart, 105 Chickasaw Ridge
Sat., August 8, 10:00 a.m. – 4:00 p.m.