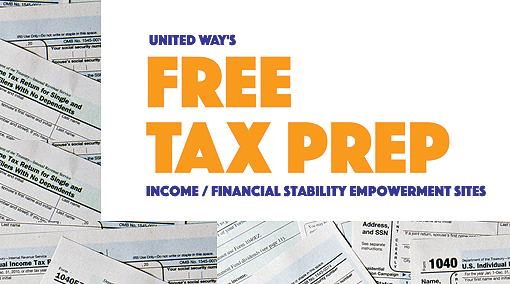 Approximately 1 in 4 people who qualify for the Earned Income Tax credit do not claim it because they do not know about it – even though the credit can mean hundreds or possibly thousands of extra dollars for your tax refund.
When you take that statistic and multiply it across the population of the Mid-South, it means millions of dollars in tax refunds are going unclaimed for our region. It's one of the big reasons United Way's Free Tax Prep program prepares and files taxes for individuals and families with less than $54,000 of income for FREE.
How much can it cost to pay and get your taxes filed? Filing fees can be upwards of $260.00 per individual when preparation and filing charges are considered. If dealing with a shady fly-by-night organization offering quick loans against expected refunds, the charges and illegal interest rates can add up to hundreds or even thousands of dollars. Protect yourself from scams and get ALL of your refund starting Tuesday, January 19th as United Way Free Tax Prep locations open across the region.
"This program is an important part of United Way's priority work to help increase financial stability across the Mid-South. This initiative connects people with needs to available tax credits that can add up to a refund representing nearly 20% of a household's annual income. That's a huge step toward paying bills, creating savings, and/or having enough for a downpayment on a home to build equity. By avoiding all fees, charges or interest, we're making sure local filers get all of their refunds. Using electronic filing, Mid-Southerners can get their returns processed quickly, speeding up their refunds," said Dave Skorupa, VP of Communications for United Way.
United Way Free Tax Prep sites accept walk-in customers but we recommend filers call 2-1-1 or 901.415.2790 Monday through Friday during normal business hours to set up an appointment and learn about the proper paperwork to bring. For specific site locations, please click here: 2016 Free Tax Prep SITES plus Mobile Schedule
You do not have to live in the zip code where the site is located to access the service. Sites will be available in the following zip code areas:  38018, 38053, 38103, 38104, 38105, 38106, 38107, 38108, 38109, 38111, 38114, 38115, 38116, 38117, 38118, 38122, 38125, 38126, 38127, 38128, 38133, and 38137. Free Tax site locations will are opening in the following Mid-South counties: Fayette, Lauderdale, Shelby, and Tipton counties in Tennessee; DeSoto, Tate and Tunica Counties in Mississippi; and Crittenden County in Arkansas.
Download a listing of addresses and operating hours of specific site locations: 2016 Free Tax Prep SITES plus Mobile Schedule
Follow United Way's Free Tax Prep program on Facebook and Twitter