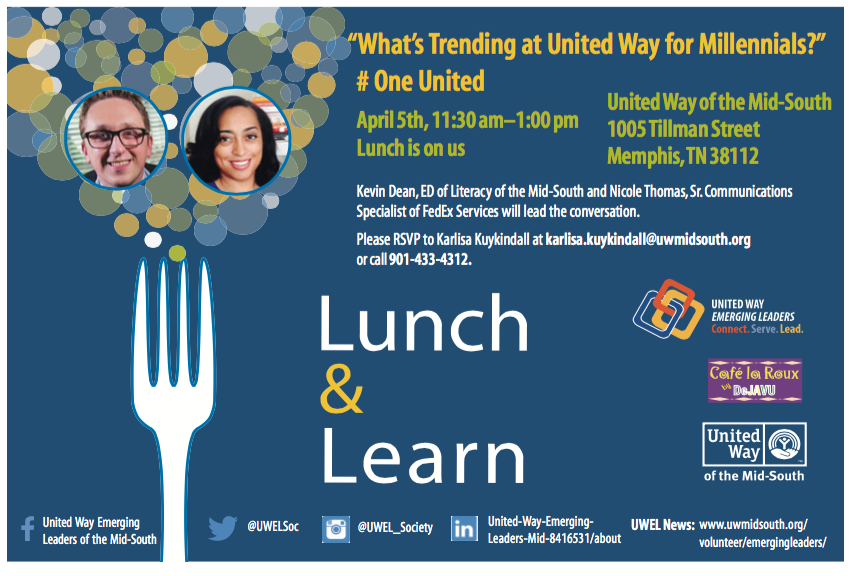 United Way Emerging Leaders latest "Lunch & Learn" meeting next Tuesday, April 5 at 11:30 a.m. features two active members of our United Way movement, Kevin Dean and Nicole Thomas.
Kevin Dean is the Executive Director of Literacy Mid-South, a United Way partner nonprofit agency helping provide literacy resources to learners of all ages and backgrounds. Roughly 20% to 30% of adults in the Memphis metro area are functionally illiterate, which leads to high unemployment and people missing out on opportunities to learn and expand their minds and dreams.
Dean was named one of Memphis' "Top 40 Under 40" by Memphis Business Journal in 2011, and he is the 2013 recipient of the Ruth J. Colvin and Frank C. Laubach Award for Excellence in Community-Based Adult Literacy from ProLiteracy. Memphis Business Quarterly ranked him as a "Memphis Power Player" in 2014 and 2015, and granted him the 2014 Innovation Award. The Alliance for Nonprofit Excellence honored him with its 2015 Excellence in Nonprofit Leadership award.
Dean is one of only a handful of  ProLiteracy-certified basic literacy trainers in the state of Tennessee.  Read more about Dean's background at the Literacy Mid-South website here.
Nicole Thomas is a Senior Communications Specialist with FedEx Services, and has been an active United Way volunteer for several years. Thomas will give her corporate perspective on working for an organization that is the region's largest supporter of United Way. Thomas works on the FedEx Global Citizenship team, which focuses on Corporate Social Responsibility programs and engagement. She managed the corporate-wide FedEx Cares United Way annual employee-giving campaign which raised over $36 million for nonprofits over the last 3 years. More than $12 million of those funds directly support the greater Memphis area. Thomas has served on the United Way Worldwide Global Corporate Leaders Council and the United Way Mid–South Campaign Cabinet.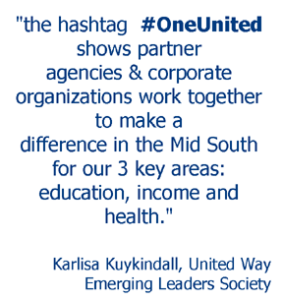 Thomas' background includes communication, media relations, and marketing roles with the NBA's Houston Rockets, Four Seasons Hotels & Resorts, and Southwest Airlines. Prior to joining FedEx, Thomas was an award-winning entrepreneur, a member of Leadership Houston and listed as one of Houston Style Magazine's "30 Under 30: Next Generation of Leaders."
The luncheon will take place at United Way's office at 1005 Tillman Street in Memphis. To RSVP, please contact Karlisa Kuykindall at karlisa.kuykindall@uwmidsouth.org or call 901.433.4312.