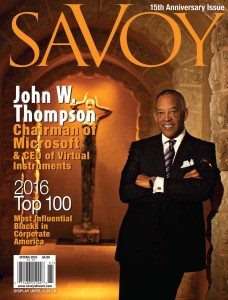 United Way Chairman of the Board of Directors Shannon A. Brown has been honored as one of the "Top 100 Most Influential Blacks in Corporate America" by Savoy magazine in its Spring, 2016 edition.
Savoy's selection process for honorees is "based upon their exemplary professional accomplishments, community achievements and ability to inspire others."
Brown, Senior Vice President & Chief Human Resource Officer for FedEx Express, completes his service as volunteer United Way Board Chairman at our 2016 Annual Luncheon next month and will remain active with the Board moving forward.
Under Brown's leadership United Way has seen many changes and transformations including the selection of Rev. Kenneth S. Robinson, M.D. as the CEO/President of United Way in 2015, new staff and board members, and our move to 1005 Tillman Street in Memphis last Spring as a result of a generous donation of a building from our friends at Georgia Pacific.
Savoy magazine's website provides the complete listing of honorees at http://savoynetwork.com/2016top100/