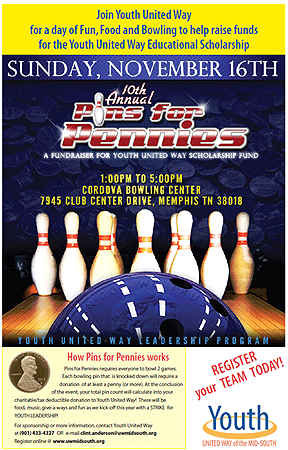 Pins for Pennies, an annual fundraiser for our Youth United Way Leadership Program, celebrates its tenth anniversary with a great afternoon of bowling at Cordova Bowling Center, 7945 Club Center Drive on Sunday, November 16.
The event has seen steady growth in attendance over a decade. Last year's crowd of 220 was more than double that of the first event, ten years ago.
The Youth United Way Educational Scholarship benefits from the activity, which brings students and parents together for food, music, giveaways, a popular #901YouthStrong t-shirt and of course, bowling.
Everyone bowls 2 games, and the Scholarship receives at least a penny for each pin knocked down at the event. The fun begins at 1:00 p.m. and ends at 5:00 p.m. Participants must register with Youth United Way by calling Director Clint Anderson at 901.433.4327 or send an e-mail to clint.anderson@uwmidsouth.org . You can also register online at http://goo.gl/forms/Yeje8ujrzL
(Click on the image above to download a 11″ x 17″ Adobe Acrobat PDF poster.)