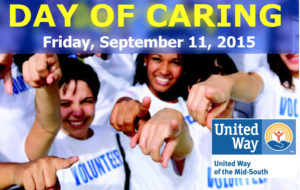 Our Day of Caring kickoff rally begins at 8:00 a.m. at The Salvation Army Kroc Center, 800 E. Parkway S. in Memphis, TN today! Hundreds of registered United Way volunteers will assemble in the gymnasium areas to receive their United Way t-shirts, or in the case of companies wearing their own branded shirts, a special baseball cap or visor.
We are expecting some parking challenges due to the large number of events taking place at the fairgrounds campus, so we encourage carpooling and arriving early to find a good space.
Our program is scheduled to end by 9:00 a.m., and at the conclusion volunteers will leave to their assigned nonprofit worksites for a day of service to our community to help the Mid-South and in honor and remembrance of the events of September 11, 2001.
We will update the United Way News Center with photos and announcements through the weekend, and we encourage your team to post photos to social media using #DOCUWMS and/or #UWMS so we can share your work with the area, and with #911day to share your work with people across our nation today.