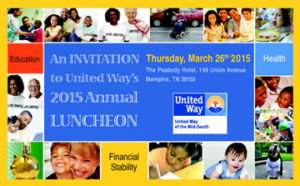 We're taking reservations now for our United Way Annual Luncheon, Thursday, March 26, 2015 at The Peabody, 149 Union Avenue, Memphis Tennessee. The event promises to be an all-new, very different celebration and we hope you'll be there with us!
Registration begins at 10:45 a.m., with a program and lunch from 11:30 a.m. – 12:45 p.m.
Seats are available for $39 per person or $375 for a table of ten.
To reserve your seats, please send an e-mail with your number of attendees and contact information to annualmeeting@uwmidsouth.org or telephone 901.433.4800. Your reservation will be confirmed with an invoice sent to your attention. Special dietary requests can be made at the time you make your reservation.
More details will be coming soon – be sure to reserve your seats now!