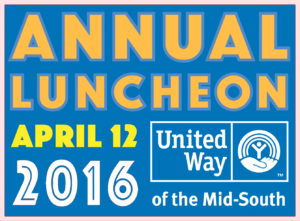 United Way of the Mid-South will celebrate a year of tremendous accomplishment and transformation at our Annual Luncheon, Tuesday, April 12 at The Peabody, 149 Union Avenue in Memphis.
Rev. Kenneth S. Robinson, M.D. President/CEO for United Way of the Mid-South, along with our Board of Directors led by Shannon A. Brown from FedEx, will share highlights from a year which saw the organization gain new leadership and a new location thanks to a donated building from Georgia Pacific at 1005 Tillman Street in Memphis.
We will also share details from our annual resource development drive led by General Campaign Chairman Greg Gibson (Vice President and General Manager, Coated Paperboard for International Paper Company), welcome new Board members, and begin the term of our new Chairman of the Board, Jerry Collins, Jr., from Memphis Light, Gas and Water Division (Collins also served as Co-Chairman for the resource development drive).
Registration will begin at 10:45 a.m. in lobby of the Grand Ballroom at The Peabody. A table of 10 is available for $425.00 and individual seats are $45.00 each.
To register, please fill out our convenient online registration (form appears in a new tab). For more information on registration or other questions, please email annualmeeting@uwmidsouth.org
More details about the Annual Luncheon will be shared at the United Way website and through our Facebook and Twitter feeds in the weeks to come – please stay tuned.