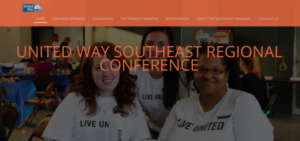 United Way of the Mid-South welcomes representatives from our fellow United Way organizations across the region to Memphis, TN for the United Way Southeast Regional Conference this week.
The conference brings United Ways together for best practices, new system-wide information, and ideas to improve raising resources and increasing impacts for local communities. All sessions take place at The Peabody in downtown Memphis, TN.
The conference features presentations from Dr. Kenneth S. Robinson, President and CEO of United Way of the Mid-South; Jim Yu, Director of Knowledge Management at United Way Worldwide; and Stacey Stewart, U.S. President, United Way Worldwide. Read more about these speakers here. (window opens in a new tab). Seminar classes on a variety of topics will also be presented at the three-day conference. Be sure to welcome these visitors to the Mid-South as you see them in town!